Pesta Akhir Tahun 2014 Telkomsel Poin
So back in 2014 a wireless carrier here did an end-of-year giveaway consisting of a BMW X3, 2 BMW 116i, and 200 Samsung Galaxy Note 4.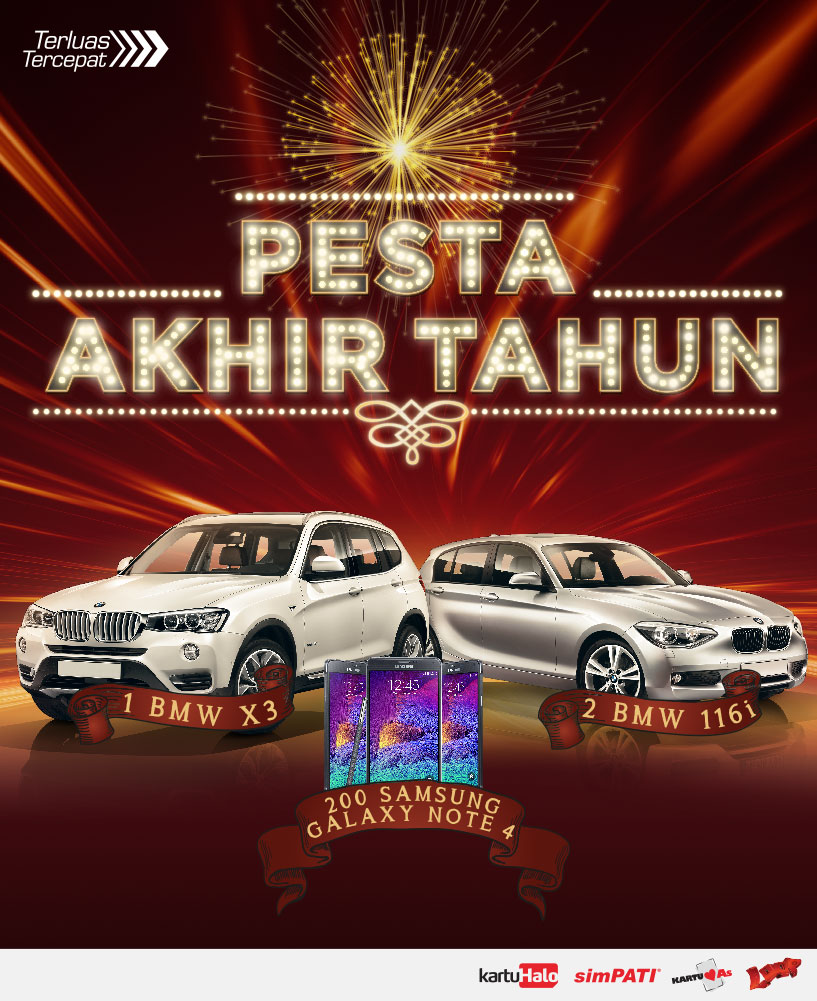 I was actually curious if they were actually giving these things away for real back then, so I checked YouTube to see if anyone has uploaded a video about it (or better, bragging about it) and surprisingly I found one of them. Now normally people don't bother doing this because others might view them as an attention whore, so it's no wonder that videos about people winning these kinds of giveaways are quite rare.
This video is from one of them who won the Galaxy Note 4
And this is the list of winners taken from this Wayback Machine snapshot. Unfortunately I couldn't find the uploader's name on the list (Freddy Juantoro) nor the city they've mentioned in the video description (Banyuwangi) so most likely the uploader's number was registered somewhere else under a different name, but considering the upload date which was on March 2015, I believe this is a legit video and not just someone who pretended to win the phone.
| HADIAH | NOMOR TELEPON | NAMA PEMENANG | KOTA |
| --- | --- | --- | --- |
| BMW X3 | 811423XXX | UNITED TRACTORS TJ. REDEB | Soroako |
| BMW 116i | 8122481XXX | DANIEL DANIASUHARA | Bandung |
| BMW 116i | 82280333XXX | ADI | Jambi |
| SAMSUNG GALAXY NOTE 4 | 82218889XXX | GUNAWAN LAI | Cirebon |
| SAMSUNG GALAXY NOTE 4 | 81347333XXX | elvi savitri | Balikpapan |
| SAMSUNG GALAXY NOTE 4 | 82375043XXX | WGWGWGX | Jambi |
| SAMSUNG GALAXY NOTE 4 | 8129263XXX | I WAYAN ARYA BUDAYA | Jakarta |
| SAMSUNG GALAXY NOTE 4 | 85397590XXX | ahmad | Makasar |
| SAMSUNG GALAXY NOTE 4 | 85381083XXX | NA | Lampung |
| SAMSUNG GALAXY NOTE 4 | 82298493XXX | ajril | Jakarta |
| SAMSUNG GALAXY NOTE 4 | 81354764XXX | HASAN ARIS | Makasar |
| SAMSUNG GALAXY NOTE 4 | 82276375XXX | EKA PRASTIA | Medan |
| SAMSUNG GALAXY NOTE 4 | 81316006XXX | nani rachmayani | Jakarta |
| SAMSUNG GALAXY NOTE 4 | 82340644XXX | efan | Denpasar |
| SAMSUNG GALAXY NOTE 4 | 82168424XXX | ANDIBINJAI | Medan |
| SAMSUNG GALAXY NOTE 4 | 81322941XXX | SEKA | Bandung |
| SAMSUNG GALAXY NOTE 4 | 81334128XXX | yahya basuki | Malang |
| SAMSUNG GALAXY NOTE 4 | 85370471XXX | NA | Banda Aceh |
| SAMSUNG GALAXY NOTE 4 | 8122201XXX | SUGIARTO | Cirebon |
| SAMSUNG GALAXY NOTE 4 | 82358745XXX | Sunni | Pontianak |
| SAMSUNG GALAXY NOTE 4 | 85360447XXX | EDI R | Banda Aceh |
| SAMSUNG GALAXY NOTE 4 | 85294785XXX | WAHYU | Bandung |
| SAMSUNG GALAXY NOTE 4 | 81349733XXX | emon | Banjarmasin |
| SAMSUNG GALAXY NOTE 4 | 82186398XXX | SHINTA MARG | Lampung |
| SAMSUNG GALAXY NOTE 4 | 811842XXX | RITA SUSANTY | Jakarta |
| SAMSUNG GALAXY NOTE 4 | 81338199XXX | NA | Denpasar |
| SAMSUNG GALAXY NOTE 4 | 85272837XXX | NA | Batam |
| SAMSUNG GALAXY NOTE 4 | 811204XXX | EDWARD SASTRA | Bandung |
| SAMSUNG GALAXY NOTE 4 | 85205113XXX | NA | Denpasar |
| SAMSUNG GALAXY NOTE 4 | 85276368XXX | SYAFI | Medan |
| SAMSUNG GALAXY NOTE 4 | 811983XXX | ISHAK LEONO | Jakarta |
| SAMSUNG GALAXY NOTE 4 | 811390XXX | IR. Y. MAHYUL FATA | Mataram |
| SAMSUNG GALAXY NOTE 4 | 82186481XXX | TANTO | Lampung |
| SAMSUNG GALAXY NOTE 4 | 811202XXX | LILA MARIA KABAN | Cirebon |
| SAMSUNG GALAXY NOTE 4 | 81333743XXX | Rini | Malang |
| SAMSUNG GALAXY NOTE 4 | 82248209XXX | MELISSA | Ambon |
| SAMSUNG GALAXY NOTE 4 | 82315311XXX | PUTRI SALSABILA .A | Bandung |
| SAMSUNG GALAXY NOTE 4 | 85337808XXX | ratu luzinda c a | Denpasar |
| SAMSUNG GALAXY NOTE 4 | 85349596XXX | NA | Banjarmasin |
| SAMSUNG GALAXY NOTE 4 | 8121014XXX | DEVI LUSIANA | Jakarta |
| SAMSUNG GALAXY NOTE 4 | 811393XXX | BENNY KURNIAWAN | Denpasar |
| SAMSUNG GALAXY NOTE 4 | 81342224XXX | erik | Makasar |
| SAMSUNG GALAXY NOTE 4 | 8129148XXX | HARI NASIRI MOCHTAR | Jakarta |
| SAMSUNG GALAXY NOTE 4 | 81337935XXX | Yanuarius nong sina | Denpasar |
| SAMSUNG GALAXY NOTE 4 | 811413XXX | KONG FULLY HR | Makasar |
| SAMSUNG GALAXY NOTE 4 | 81364900XXX | SITI | Batam |
| SAMSUNG GALAXY NOTE 4 | 82237938XXX | NA | Mataram |
| SAMSUNG GALAXY NOTE 4 | 82352144XXX | takim | Balikpapan |
| SAMSUNG GALAXY NOTE 4 | 82214192XXX | Umar | Bandung |
| SAMSUNG GALAXY NOTE 4 | 8124642XXX | SUKANDANI, DEWA AYU KT | Denpasar |
| SAMSUNG GALAXY NOTE 4 | 81348733XXX | Memey | Banjarmasin |
| SAMSUNG GALAXY NOTE 4 | 8126750XXX | NURSIN S | Padang |
| SAMSUNG GALAXY NOTE 4 | 85333443XXX | yanuarius ule | Kupang |
| SAMSUNG GALAXY NOTE 4 | 82253510XXX | Syahril | Banjarmasin |
| SAMSUNG GALAXY NOTE 4 | 85264626XXX | FAHMI | Batam |
| SAMSUNG GALAXY NOTE 4 | 85321393XXX | JAJA | Bandung |
| SAMSUNG GALAXY NOTE 4 | 811585XXX | LISBER MANURUNG | Samarinda |
| SAMSUNG GALAXY NOTE 4 | 82186692XXX | PUJIANTO | Lampung |
| SAMSUNG GALAXY NOTE 4 | 8128383XXX | SUPRIADI | Jakarta |
| SAMSUNG GALAXY NOTE 4 | 82251432XXX | YANTI | Balikpapan |
| SAMSUNG GALAXY NOTE 4 | 85272100XXX | RICO | Batam |
| SAMSUNG GALAXY NOTE 4 | 811832XXX | DANANG PRIHANDOKO | Jakarta |
| SAMSUNG GALAXY NOTE 4 | 85298169XXX | NELES | Menado |
| SAMSUNG GALAXY NOTE 4 | 811638XXX | HARYANTO WILLIAM. SE. | Medan |
| SAMSUNG GALAXY NOTE 4 | 85314004XXX | INA A | Bandung |
| SAMSUNG GALAXY NOTE 4 | 82194928XXX | RACHMAD DWI A | Palu |
| SAMSUNG GALAXY NOTE 4 | 82381732XXX | SANDRO | Batam |
| SAMSUNG GALAXY NOTE 4 | 85294700XXX | KIKI HERMAWAN | Bandung |
| SAMSUNG GALAXY NOTE 4 | 85389271XXX | NA | Banjarmasin |
| SAMSUNG GALAXY NOTE 4 | 85364593XXX | Nurhan | Batam |
| SAMSUNG GALAXY NOTE 4 | 85318606XXX | deja | Cirebon |
| SAMSUNG GALAXY NOTE 4 | 811214XXX | ERWANTO YUSUF | Bandung |
| SAMSUNG GALAXY NOTE 4 | 81337700XXX | I made gede cahyadi | Denpasar |
| SAMSUNG GALAXY NOTE 4 | 82182863XXX | anastasia khoirunisa | Lampung |
| SAMSUNG GALAXY NOTE 4 | 81322492XXX | Deki handika | Bandung |
| SAMSUNG GALAXY NOTE 4 | 8125617XXX | HARIONO AN. SOPHIAN | Pontianak |
| SAMSUNG GALAXY NOTE 4 | 85277789XXX | ROSMAYNI | Banda Aceh |
| SAMSUNG GALAXY NOTE 4 | 81311404XXX | YUSRIZAL .. | Jakarta |
| SAMSUNG GALAXY NOTE 4 | 82338676XXX | BASRUN | Malang |
| SAMSUNG GALAXY NOTE 4 | 85383067XXX | ANTON | Jambi |
| SAMSUNG GALAXY NOTE 4 | 81314311XXX | ade | Jakarta |
| SAMSUNG GALAXY NOTE 4 | 81339532XXX | EKO SETIAWAN | Mataram |
| SAMSUNG GALAXY NOTE 4 | 85274383XXX | FANNIA | Padang |
| SAMSUNG GALAXY NOTE 4 | 82240481XXX | nasya | Tasikmalaya |
| SAMSUNG GALAXY NOTE 4 | 81337692XXX | NA | Denpasar |
| SAMSUNG GALAXY NOTE 4 | 81372756XXX | RINI | Batam |
| SAMSUNG GALAXY NOTE 4 | 81318888XXX | YUPPY SUHANDINATA | Jakarta |
| SAMSUNG GALAXY NOTE 4 | 82237292XXX | ONAR AHMAD | Mataram |
| SAMSUNG GALAXY NOTE 4 | 811797XXX | ALI ARIFIN | Lampung |
| SAMSUNG GALAXY NOTE 4 | 811150XXX | KOL.MAR.S.HARTONO SH | Jakarta |
| SAMSUNG GALAXY NOTE 4 | 81338696XXX | NA | Denpasar |
| SAMSUNG GALAXY NOTE 4 | 81346377XXX | ZAINNUDDIN .. | Balikpapan |
| SAMSUNG GALAXY NOTE 4 | 82315684XXX | DIDI | Bandung |
| SAMSUNG GALAXY NOTE 4 | 82338886XXX | Bambang sukoco | Malang |
| SAMSUNG GALAXY NOTE 4 | 81364411XXX | FERRY | Batam |
| SAMSUNG GALAXY NOTE 4 | 8122347XXX | ANNA YOHANA S | Bandung |
| SAMSUNG GALAXY NOTE 4 | 82247184XXX | sinta | Mataram |
| SAMSUNG GALAXY NOTE 4 | 82394939XXX | Maya | Kendari |
| SAMSUNG GALAXY NOTE 4 | 811200XXX | DR.TINE SILVANA R.M.SI | Bandung |
| SAMSUNG GALAXY NOTE 4 | 82340928XXX | muh. salahuddin | Denpasar |
| SAMSUNG GALAXY NOTE 4 | 811413XXX | LANNI CADDI | Makasar |
| SAMSUNG GALAXY NOTE 4 | 8129636XXX | PARJIATI | Jakarta |
| SAMSUNG GALAXY NOTE 4 | 82339691XXX | NA | Denpasar |
| SAMSUNG GALAXY NOTE 4 | 82197888XXX | daeng | Ambon |
| SAMSUNG GALAXY NOTE 4 | 811907XXX | YENNY SUWANDI YASADIPURA | Jakarta |
| SAMSUNG GALAXY NOTE 4 | 82341700XXX | TEJO | Kupang |
| SAMSUNG GALAXY NOTE 4 | 81343337XXX | REYNTO KWEENIAWAN | Ambon |
| SAMSUNG GALAXY NOTE 4 | 85267432XXX | ADI | Palembang |
| SAMSUNG GALAXY NOTE 4 | 811938XXX | ERIK SUNANTO | Jakarta |
| SAMSUNG GALAXY NOTE 4 | 811421XXX | HASBULLAH | Pare Pare |
| SAMSUNG GALAXY NOTE 4 | 81375133XXX | JULI KAR | Medan |
| SAMSUNG GALAXY NOTE 4 | 81337198XXX | BUDIARTHA, I NYOMAN | Denpasar |
| SAMSUNG GALAXY NOTE 4 | 81348579XXX | Bonavena | Banjarmasin |
| SAMSUNG GALAXY NOTE 4 | 81370176XXX | JOKO | Medan |
| SAMSUNG GALAXY NOTE 4 | 811111XXX | PARNIATI | Bogor |
| SAMSUNG GALAXY NOTE 4 | 85249624XXX | HENDRA | Banjarmasin |
| SAMSUNG GALAXY NOTE 4 | 8123807XXX | SUPRAPTA I KETUT | Denpasar |
| SAMSUNG GALAXY NOTE 4 | 85340531XXX | ANA | Menado |
| SAMSUNG GALAXY NOTE 4 | 81314240XXX | IMAM RISMAHAYADIN | Jakarta |
| SAMSUNG GALAXY NOTE 4 | 81364452XXX | MULYADI | Batam |
| SAMSUNG GALAXY NOTE 4 | 8123966XXX | SUSANTO ADITJANDRA | Denpasar |
| SAMSUNG GALAXY NOTE 4 | 81361570XXX | banda | Medan |
| SAMSUNG GALAXY NOTE 4 | 811228XXX | ROLAND ANDIRAWALA | Bandung |
| SAMSUNG GALAXY NOTE 4 | 81337252XXX | PURWATI .. | Denpasar |
| SAMSUNG GALAXY NOTE 4 | 82188944XXX | jaka | Makasar |
| SAMSUNG GALAXY NOTE 4 | 85277771XXX | MASRIAL | Banda Aceh |
| SAMSUNG GALAXY NOTE 4 | 811868XXX | YULIANA GAN | Jakarta |
| SAMSUNG GALAXY NOTE 4 | 82237472XXX | NA | Mataram |
| SAMSUNG GALAXY NOTE 4 | 85341506XXX | BAYU | Kendari |
| SAMSUNG GALAXY NOTE 4 | 81364359XXX | NA | Batam |
| SAMSUNG GALAXY NOTE 4 | 8128046XXX | AHMAD SURYA LAKSANA | Jakarta |
| SAMSUNG GALAXY NOTE 4 | 81338662XXX | rian | Denpasar |
| SAMSUNG GALAXY NOTE 4 | 82350300XXX | abdulsahit | Balikpapan |
| SAMSUNG GALAXY NOTE 4 | 85379903XXX | JAKALAMPUNG | Lampung |
| SAMSUNG GALAXY NOTE 4 | 81315301XXX | Rajali purba | Jakarta |
| SAMSUNG GALAXY NOTE 4 | 81337082XXX | DRS. I MADE SUNARTA, MM.M.SI | Denpasar |
| SAMSUNG GALAXY NOTE 4 | 82197284XXX | ROMIN OMY | Menado |
| SAMSUNG GALAXY NOTE 4 | 85370102XXX | NA | Banda Aceh |
| SAMSUNG GALAXY NOTE 4 | 811905XXX | ANDRIAS WIBOWO | Jakarta |
| SAMSUNG GALAXY NOTE 4 | 82333388XXX | dejon | Jember |
| SAMSUNG GALAXY NOTE 4 | 8124404XXX | KEVIN ADITIRTA, SE | Menado |
| SAMSUNG GALAXY NOTE 4 | 81360139XXX | MARZUKI | Banda Aceh |
| SAMSUNG GALAXY NOTE 4 | 811994XXX | SONNY LUNTUNGAN | Jakarta |
| SAMSUNG GALAXY NOTE 4 | 85338672XXX | NA | Kupang |
| SAMSUNG GALAXY NOTE 4 | 85145992XXX | Dedi kurniawan | Makasar |
| SAMSUNG GALAXY NOTE 4 | 85264555XXX | MAULANA | Batam |
| SAMSUNG GALAXY NOTE 4 | 8119995XXX | BAGUSHARIAWAN | Jakarta |
| SAMSUNG GALAXY NOTE 4 | 81338492XXX | NA | Denpasar |
| SAMSUNG GALAXY NOTE 4 | 85145724XXX | AFIKA | Makasar |
| SAMSUNG GALAXY NOTE 4 | 811724XXX | HUSEN ANDRIANTO | Lampung |
| SAMSUNG GALAXY NOTE 4 | 82111310XXX | APANDI | Jakarta |
| SAMSUNG GALAXY NOTE 4 | 8124625XXX | GUNADA, I WAYAN, DRS | Denpasar |
| SAMSUNG GALAXY NOTE 4 | 81344657XXX | EFRAYIM SALEH | Jayapura |
| SAMSUNG GALAXY NOTE 4 | 85260900XXX | AMAT | Banda Aceh |
| SAMSUNG GALAXY NOTE 4 | 811847XXX | MOHAMMAD ALFANSYAH | Jakarta |
| SAMSUNG GALAXY NOTE 4 | 81337610XXX | NA | Denpasar |
| SAMSUNG GALAXY NOTE 4 | 81348727XXX | ABDUL HALIM | Banjarmasin |
| SAMSUNG GALAXY NOTE 4 | 85270624XXX | ARINSMG | Medan |
| SAMSUNG GALAXY NOTE 4 | 811168XXX | HIE SUDIARTO | Jakarta |
| SAMSUNG GALAXY NOTE 4 | 85233110XXX | NAZELI | Malang |
| SAMSUNG GALAXY NOTE 4 | 811540XXX | RAHMAT W. PRATAMA | Balikpapan |
| SAMSUNG GALAXY NOTE 4 | 81364642XXX | MONG | Batam |
| SAMSUNG GALAXY NOTE 4 | 811235XXX | ADE HADIDJAH | Bandung |
| SAMSUNG GALAXY NOTE 4 | 82322985XXX | KHAIRUL ANAM | Pekalongan |
| SAMSUNG GALAXY NOTE 4 | 85145669XXX | TAKBIR | Makasar |
| SAMSUNG GALAXY NOTE 4 | 81360147XXX | JUNIARDI | Banda Aceh |
| SAMSUNG GALAXY NOTE 4 | 85212441XXX | ANDI | Serang |
| SAMSUNG GALAXY NOTE 4 | 81353212XXX | ADI SURYA BRATA | Denpasar |
| SAMSUNG GALAXY NOTE 4 | 81349384XXX | Melli | Banjarmasin |
| SAMSUNG GALAXY NOTE 4 | 85296529XXX | DIMURTADHA | Medan |
| SAMSUNG GALAXY NOTE 4 | 8123804XXX | SANTI PURWANI, NI PUTU, SE | Denpasar |
| SAMSUNG GALAXY NOTE 4 | 85337096XXX | NA | Denpasar |
| SAMSUNG GALAXY NOTE 4 | 82332461XXX | TEDDY TUNRIBALI | Surabaya |
| SAMSUNG GALAXY NOTE 4 | 8124239XXX | MAMAN SUPARMAN | Makasar |
| SAMSUNG GALAXY NOTE 4 | 811459XXX | TONY WAROW | Palu |
| SAMSUNG GALAXY NOTE 4 | 85258638XXX | HERMAWAN | Jember |
| SAMSUNG GALAXY NOTE 4 | 8123943XXX | MASNITO | Denpasar |
| SAMSUNG GALAXY NOTE 4 | 81340461XXX | JEMMY RAMINTANG, DRS HALO PERTOKOAN | Menado |
| SAMSUNG GALAXY NOTE 4 | 85242066XXX | NA | Makasar |
| SAMSUNG GALAXY NOTE 4 | 811533XXX | JULIVER SINAGA | Balikpapan |
| SAMSUNG GALAXY NOTE 4 | 82186762XXX | BURHANUDIN | Lampung |
| SAMSUNG GALAXY NOTE 4 | 85296828XXX | MAR | Medan |
| SAMSUNG GALAXY NOTE 4 | 82283846XXX | Ali | Batam |
| SAMSUNG GALAXY NOTE 4 | 81394815XXX | RUSDIANTO | Bandung |
| SAMSUNG GALAXY NOTE 4 | 82368712XXX | MANSUR | Medan |
| SAMSUNG GALAXY NOTE 4 | 82312771XXX | RULLY | Jakarta |
| SAMSUNG GALAXY NOTE 4 | 82236428XXX | MAN | Kupang |
| SAMSUNG GALAXY NOTE 4 | 8123873XXX | HIRASON HARUODONO | Denpasar |
| SAMSUNG GALAXY NOTE 4 | 81338072XXX | alfonsus pajo | Denpasar |
| SAMSUNG GALAXY NOTE 4 | 81338587XXX | EDDY SURYA WIJAYA | Denpasar |
| SAMSUNG GALAXY NOTE 4 | 82145915XXX | ALFAN | Kupang |
| SAMSUNG GALAXY NOTE 4 | 8125414XXX | DINNA SULISTIANI | Balikpapan |
| SAMSUNG GALAXY NOTE 4 | 82237149XXX | A.RIEM.NUGRAWATI | Mataram |
| SAMSUNG GALAXY NOTE 4 | 85398089XXX | siti aminah | Makasar |
| SAMSUNG GALAXY NOTE 4 | 85244455XXX | RADENSOFT | Jayapura |
| SAMSUNG GALAXY NOTE 4 | 811421XXX | DARWIS | Pare Pare |
| SAMSUNG GALAXY NOTE 4 | 82293611XXX | muhammad akhirullah | Kendari |
| SAMSUNG GALAXY NOTE 4 | 81372275XXX | NA | Batam |
| SAMSUNG GALAXY NOTE 4 | 85340941XXX | ina | Menado |
| SAMSUNG GALAXY NOTE 4 | 85261709XXX | DAVID JUNI | Medan |
| SAMSUNG GALAXY NOTE 4 | 85272552XXX | TIKU | Batam |
| SAMSUNG GALAXY NOTE 4 | 8126565XXX | ALINAFIA | Medan |
| SAMSUNG GALAXY NOTE 4 | 8124655XXX | CHRISTINA SETIANINGSIH | Denpasar |