Tetrahedral projections
AuthaGraph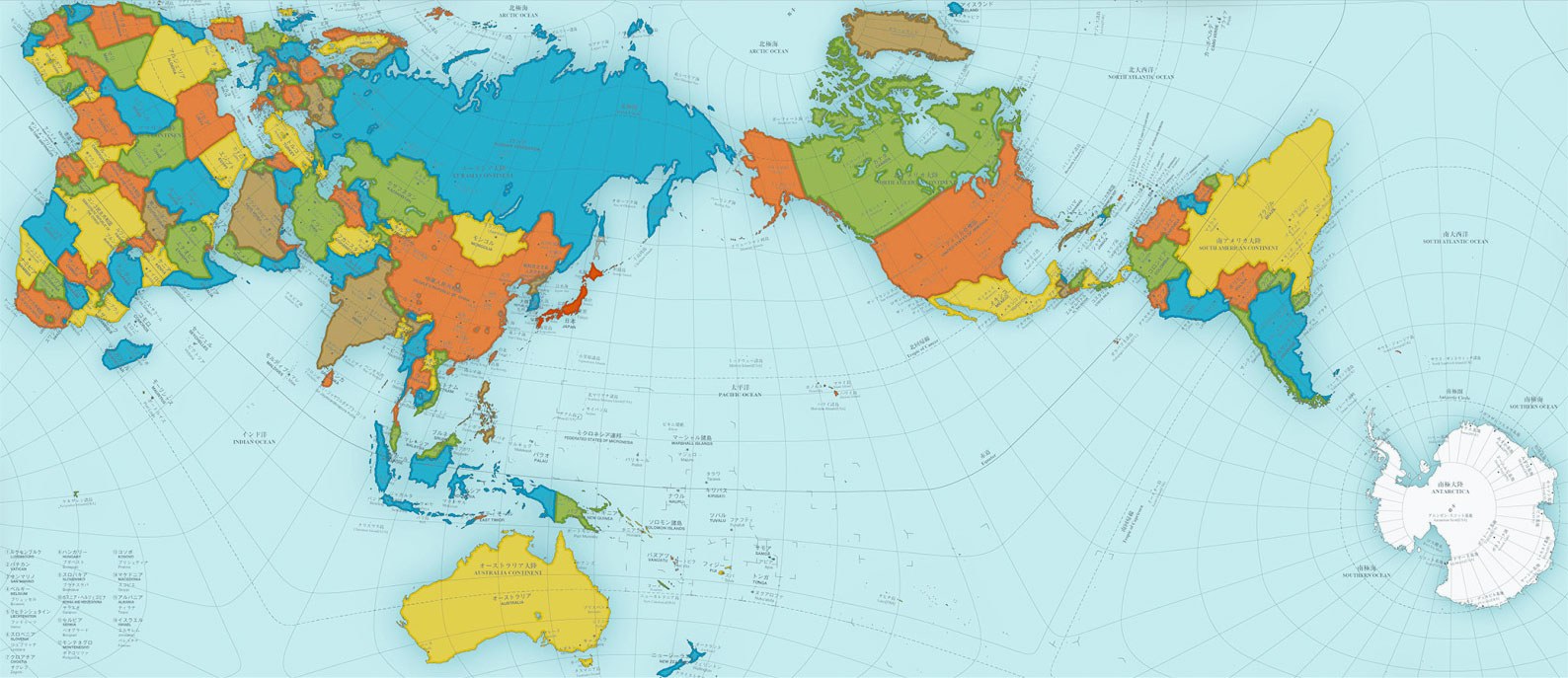 Top: The official AuthaGraph map
Above: The projection's clone applied to a silhouette map of the Earth
Pros:
Minimum-error projection: balances out areal and angular distortions to an acceptable degree.
Good placement of landmasses to avoid severe distortions.
Won the Japanese Good Design Grand Award in 2016.
Probably the most well-known tetrahedral projection out of all after it took the media by storm.
Cons:
Its equations is proprietary and has never been published anywhere, requiring people to resort to alternatives such as its reverse-engineered clone to make similar maps.

Because of this, it's impossible to use the original projection in any GIS software.
Not only that, every single image of this projection on the internet uses THE SAME SHITTY LOW-RESOLUTION POLITICAL MAP, WHICH IS THE ONLY MAP THEY WERE WILLING TO PUBLISH ON THEIR WEBSITE (see above). UPDATE: I've managed to find a high resolution image of the map. See here.

Landmasses such as Australia or Brazil look weird with this projection despite the its minimum-error properties.
Compromise projection means that it's not really equal-area as it name claims it to be.
Lee tetrahedral
Pros:
One of the best conformal projections: preserves angles locally while maintaining area proportions relatively well unlike most conformal projections. A good configuration of the map can yield results where most landmasses avoid touching the singularities, where its conformality is lost and distortions are the worst.

The AuthaGraph-like configuration is a good example of this.

Unlike most conformal projections, it's possible to show the entire world with this projection, and it tessellates too.
Generally looks more appealing than compromise or equal-area tetrahedral projections due to its angle-preserving nature, and landmasses look more "normal".
Cons:
Higher area distortion than compromise projections, although this is to be expected.

This causes Western Australia to appear noticeably inflated.

As with most conformal projections, singularities do exist on the edges of the map.
van Leeuwen
Pros:
Equal-area: absolutely no areal distortions unlike AuthaGraph.
Using the AuthaGraph-like configuration also yield pretty good results to minimize its angular distortions.
Cons:
Severe angular deformations are noticeable with this projection, though this is to be expected due to its authalic properties.
Landmasses look even weirder than AuthaGraph because of this.
Kunimune's "EquaHedral"
Pros:
Interrupted equal-area: Minimizes distortions that is caused by its area equivalence properties, resulting in a better looking map than van Leeuwen.
Customizable: Sinus length can be adjusted.
Cons:
Interruptions make it difficult to measure distances in certain cases, and can slice up landmasses.
Its best configuration with sinus length of 42 isn't compatible with the AuthaGraph-like positioning of landmasses, since it slices up Brazil, Russia, and Indonesia.
Kunimune's "TetraGraph"